Drawing Kids website
Local artist donates supplies to Cumberland County schools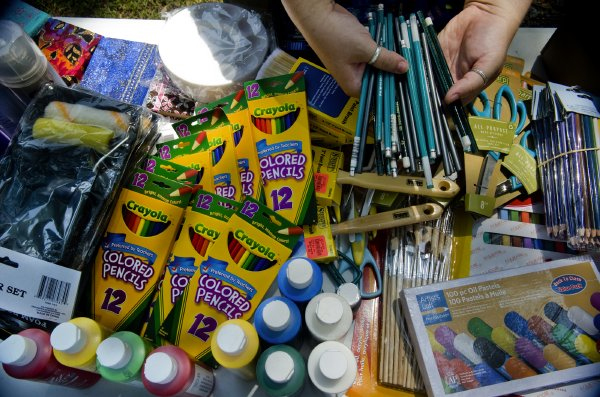 Since 2006, Sarah-Lynn Brown has donated art supplies to county high schools. Staff photo by Raul R. Rubiera.
Fayetteville Observer
August 1, 2011
By Steve DeVane
Staff writer
Sarah-Lynn Brown remembers taking art at E.E. Smith High School with few supplies in the mid-1990s.
"There wasn't a whole lot of money," she said. "That was one thing that kept haunting me."
Brown, a local artist and illustrator who also works in a health food store, hoped that one day she would help those students who followed her.
She started in 2006, when she bought $200 in art supplies for E.E. Smith. This year, she's helped Douglas Byrd and Reid Ross Classical high schools and has supplies waiting for Terry Sanford High School.
Much of the money for the supplies comes from the sale of Brown's handmade journals and scrapbooks at the Fayetteville Farmers Market. She also uses her own money.
"There's no strings attached," she said. "They don't have to pay anything for it."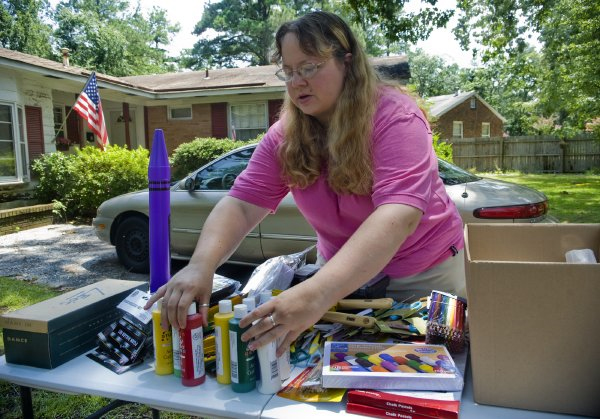 Sarah-Lynn Brown goes through the art supplies she bought to donate to Cumberland County high schools in need of them. Staff photo by Raul R. Rubiera
School officials say funding for art supplies and similar items have been cut in recent years. In this year's budget, Cumberland County schools had to absorb line item cuts from the state for instructional supplies, transportation, textbooks and staff development.
Brown's organization, 'Drawing Kids' isn't a nonprofit group. She said she prefers to put money into art supplies for schools rather than paying to apply for nonprofit status.
Brown said she "cold calls" schools asking if they need art supplies.
Frank Smith, an Art teacher at Douglas Byrd High School, said Brown contacted the school near the end of this past school year.
"At first I was a little reluctant," he said. "I said, 'This can't be true.' "
Smith said Brown gave the school colored pencils, sharpeners, erasers, containers and other supplies.
"It's not a lot, but it helps us a lot," he said. "I was very appreciative."
Smith, who has been an art teacher since 2006 and at Douglas Byrd since December 2007, said the supplies are especially helpful in tight economic times.
"If the budget's going to get cut, they're not going to cut out math or science," he said. "The supplies she gave us were needed."
Brown said she usually pays $50 to $100 for supplies that go to one school. She said the items usually are worth more because she buys them on sale.
"Some of the teachers look like they're going to cry, they get so excited," she said. "They usually have to take it out of their own pockets."
Brown said she is trying to restructure her organization to make it more efficient.
"That little bit helps whoever is in that classroom," she said. "I'm just doing what I can."
To learn more about Brown's organization, Drawing Kids, go to https://drawingkids.angelfire.com/

Staff writer Steve DeVane can be reached at devanes@fayobserver.com or (910)486-3572.